About Our Pile Cage Wheel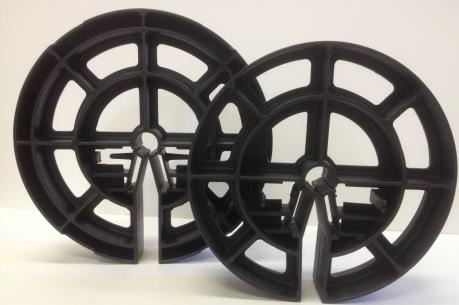 The extra wide outer edge, of our Pile Cage Wheel, gives a firm footprint in soft soils. Sturdy wall sections ensure the Wheel provides the correct cover under heavy loads.

The Push-Fit mechanism provides quick installation and requires no tools to install the wheel. The cage wheel has a security clip lock, to ensure the wheel stays where you put it.

The design ensures freeflow of concrete.

Features of the Pile Cage Wheel:
- Provides Concrete Cover of 50mm or 75mm.
- Manufactured from recycled materials.
- Simple push-fit installation.
- Available to comply with AS/NZS 2425:2015 standards.
- Suites bar sizes from 10mm to 20mm.

Pile Cage Wheels are injection moulded using Black 100% Recycled Polypropylene. This is our contribution to rid the world of plastic waste. Our recycled raw materials are quality checked on a regular basis and only the best recycled materials are used.

Pile Cage Wheel Codes and Descriptions

Product Code

Description

50/20HD

50/20 Heavy Duty Pile Cage Wheel Spacer

75/20HD

75/20 Heavy Duty Pile Cage Wheel Spacer
*** We stock these sizes, but other sizes may be imported if and when required. &nbsp&nbsp&nbsp&nbsp&nbsp&nbsp&nbspMinimum order 100 units

Pile Cage Wheel Push-Fit Mechanism:
The Push-Fit Mechanism allows the Pile Cage Wheel Spacers to be installed without the need for any tools. This mechanish is the first step in ensuring that the Pile Cage Wheel Spacer remain in place when the Pile Cage is lowered into position.

Pile Cage Wheel Dimensions

Product Description

A

B

C

D

E

50/20 Heavy Duty Pile Cage Wheel Spacer

17mmA

20mm

50mm

118mm

42mm

75/20 Heavy Duty Pile Cage Wheel Spacer

17mm

20mm

75mm

167mm

39mm