About Our Pile Cage Foot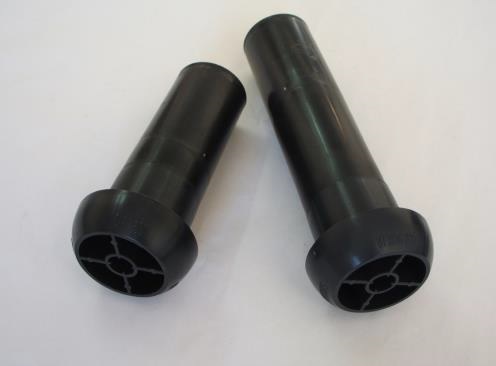 Our Pile Cage Foot is a two piece product, once assembled, it is used to ensure concrete cover at the bottom of the Reinforcing Pile Cage.

Our Cage Foot Extention has been designed to extend the cover of 85mm, whilst maintaining it's impressive load carrying ability.

Manufactured under AS/NZS ISO 9001:2015 guidelines, the Pile cage Foot is designed to withstand up to a 500 kilogram dead weight (85mm Cage Foot).

The design ensures freeflow of concrete.

Features of the Pile Cage Foot:
- Provides Concrete Cover of 85, 100 or 150mm.
- Manufactured from recycled materials.
- Simple assembly and push-fit installation.
- Suites bar sizes from 20mm to 40mm.
- Exceeds AS/NZS 2425:2015 200 kilogram load requirements.

Pile Cage Feet and Extensions are injection moulded using Black 100% Recycled Polypropylene. This is our contribution to rid the world of plastic waste. Our recycled raw materials are quality checked on a regular basis and only the best recycled materials are used.

Pile Cage Foot Codes and Load Limits

Product Code

Product Name

Load Limit

CF85

85mm Cage Foot

500 kgs

CF100

100mm Cage Foot

200 kgs

CS150

150mm Cage Foot

250 kgs

CFE100

100mm Cage Foot Extension

500 kgs

CFE150

150mm Cage Foot Extension

500 kgs
Minimum order 100 units
Pile Cage Foot Dimensions

Product Name

A

B

C

85mm Cage Foot

163mm

78mm

85mm

100mm Cage Foot

178mm

78mm

100mm

150mm Cage Foot

228mm

78mm

150mm

Suggested Usage:
*** Total cage weight must not exceed "Number of feet per cage x Load limit", for example &nbsp&nbsp&nbsp&nbsp&nbsp&nbsp1000 kg cage requires at least 5 x 100mm Cage Feet.
*** Higher loads can be achieved by using a 85mm Cage Foot, PLUS a 100mm Cage Foot &nbsp&nbsp&nbsp&nbsp&nbsp&nbspExtension.
*** Consideration needs to be given to the possibilty of UNEVEN ground where some Cage &nbsp&nbsp&nbsp&nbsp&nbsp&nbspFeet may be over loaded.