About Our MG20H Rebar Cutter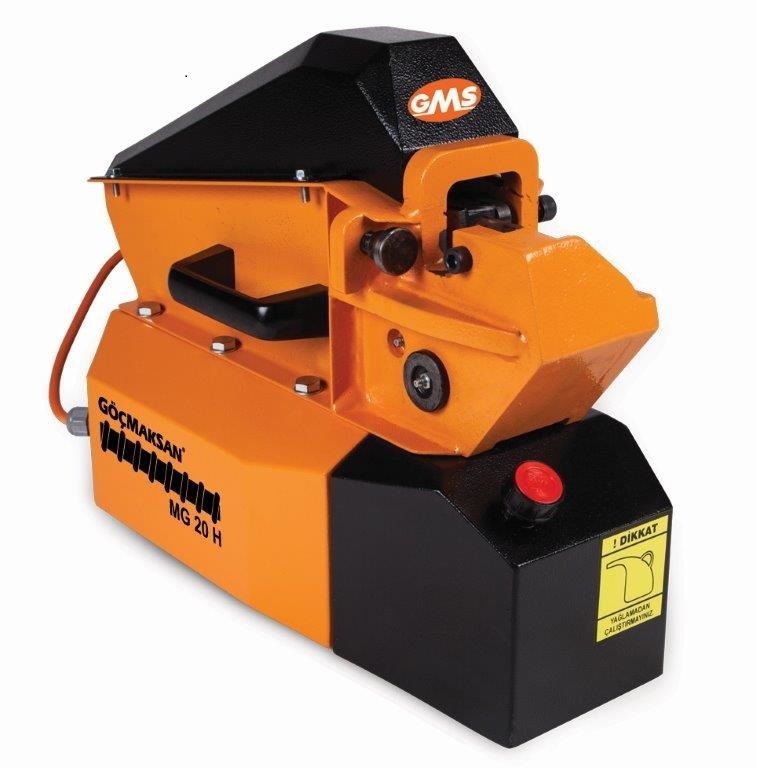 MG20H 220 Volt Hydraulic Rebar Cutting Machines
The MG20H Rebar Cutter is very operator friendly and extremely easy to use. With the cutter weighing 48 kilograms and the power pack only weighing 6 kilograms, it is portable and can be moved around quite easily.
Rebar Cutting is achieved via a hydraulic power packand operated by using a foot switch. Designed to ensure safety and to maximise power savings. Easy to maintain and requires minimum maintenance. The MG20H is ideal for on-site work, because of it's portability.
The versatile MG20H can also be utilised to cut round bar, square bar and flat bar.
MG20H Cutting Capacity
| | |
| --- | --- |
| Steel Strength | Rebar Ømm & Number of Bars |
| 45 kg/mm² | Ø20 x 1 Ø16 x 1 Ø12 x 2 Ø10 x 3 |
| 65 kg/mm² | Ø16 x 1 Ø12 x 1 Ø10 x 2 Ø8 x 3 |
| 85 kg/mm² | Ø12 x 1 Ø10 x 2 Ø8 x 2 Ø6 x 3 |
MG20H Weight & Dimensions
| | |
| --- | --- |
| Weight | 48Kgs |
| Width | 25 cm |
| Length | 53 cm |
| Height | 43 cm |
Power Pack Weight & Dimensions
| | |
| --- | --- |
| Weight | 6Kgs |
| Width | 21 cm |
| Length | 29 cm |
| Height | 18 cm |
Motor Specifications
| | |
| --- | --- |
| Motor Power | 1,1 kw |
| Operating Volts | 220/230V |
| Motor Frequency | 50 Hz |
| Oil Tank | 4 Liters |
MG20H Standard Equipment
1 10mm Allen Key
1 500cc Grease Pump
2 35x35x12mm Blades